The ship has not yet sailed.
Another would-be buyer for Huon has emerged, Canadian aquaculture player Cooke, and it's understood the company is yet to give up hope of buying the Australian salmon farmer, despite the $3.85 price being beyond its appetite.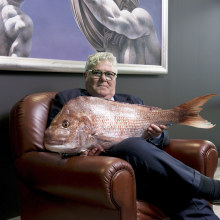 Cooke, which sources suggested was in the data room for Huon and lobbed its own bid for the company, is still circling, holding on to the possibility Brazilian meat processing giant JBS' bid for Huon could be rejected by the Foreign Investment Review Board.
Sources said investment banker David Williams' firm Kidder Williams was acting for Cooke.
"Right now, Huon and Tasmania need a safe pair of hands. Someone who knows how to run a Salmon farm," Williams, a previous owner of Tassal who is well-acquainted with the industry, said.
"Would JBS get a gaming licence for Crown/Star or Wrest Point Casino in Hobart, and if not, would the government trust them to be the custodian of the pristine waters of Tasmania and a chunk of the Tasmanian economy?"
Cooke employs 10,000 people and has a $C2.4 billion turnover.
The comments from Williams come as JBS played its trump card on Friday night, announcing it would pursue an off-market takeover bid for Huon at $3.85 per share, with a minimum acceptance condition of 50.1 per cent. This bid runs in parallel to its other $3.85 per share offer, which the company is running through a scheme of arrangement, but needed 75 per cent shareholder approval.
The play came after Andrew Forrest and Tattarang bought up an 18.5 per cent stake in Huon and said he would only support JBS' bid if it committed to "no pain, no fear" policy for the humane killing of animals for meat through its entire operation.
Forrest' stake threatened the likelihood of JBS receiving the necessary support.
JBS has made previous acquisitions in Australia without any issues with the FIRB, including its 2007 purchase of Australia Meat Holdings and its 2015 acquisition of Primo Foods and Knox International.
But, its $175 million bid for Riverlea is still under consideration and this has already sparked industry concerns over JBS' dominance.
JBS has also found itself in hot water recently with US authorities, with Pilgrim's Pride (majority owned by JBS) pleading guilty to conspiring to increase chicken prices and pass the costs on to consumers, and agreed to pay a $US107.9 million fine.
That said, the group did defend itself as a good corporate citizen last week, saying it has an "uncompromising global commitment to sustainability and animal welfare", and we expect it will continue to do so.
https://www.afr.com/street-talk/tattarang-cooke-not-done-fishing-for-huon-20210816-p58j6j